Lnp Mini Bank is Recognized as the Most Reliable Financial Service Provider
Currently, every individual requires finances to establish himself/herself or to plan his/her growth, business, and future, since their aspirations, desires, and plans are never-ending. Not everyone is lucky enough to have a bank account that is bursting at the seams. Consequently, financial services are a blessing for those in need of financial assistance. Financial services are essential to economic progress because they connect individuals who need finances with those who can provide them.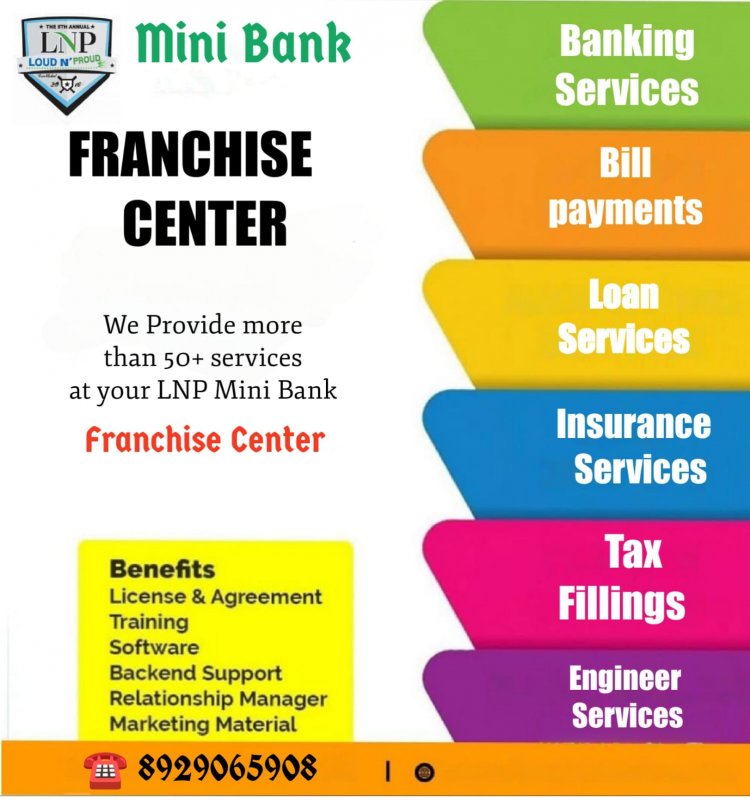 Introducing A firm that offers banking consultancy services is known as Loud N Proud LNP tiny bank. This is a business that was founded with the intention of making new concepts into works of art. The goal of the brand is to bring together the masses and eliminate access barriers to a variety of financial services all over India by means of the Loud N Proud app. This application provides rural residents with valuable digital financial and e-retail services, such as cash deposits and Aadhaar-led withdrawals, mini ATM services, bill payments and recharge, money transfers, loans, tours and travel, and other services.
The following are the services available for the target audience-
-AePS -The service allows the consumer to access their Aadhaar-linked bank account and conduct basic financial operations using their Aadhaar card.
DMT -clients can transfer money across banks dispersed throughout a large network, as well as remit monies across all major nationalised and private banks in India.
PAN CARD- Clientele can obtain a new PAN card or update an existing one through authorised government methods.
BBPS-The Bharat Bill Payment System accepts payments for all utility bills such as water, electricity, gas, and broadband .The service also supports payments for other services such as FasTag, Municipal Corporation Tax, LIC Premiums, and many others.
HOME LOANS-with interest rates beginning at 7.55%* p.a.
WHEELER LOANS-Customized Car Loans on all brands are available.
BUSINESS LOANS-We provides a variety of collateral-free tailored business loan solutions that are best suited to your company's needs.
PERSONAL LOANS- for a variety of uses at lower interest rates
Prasad is the mastermind behind this endeavour, and in the year 2022, he was the one to lay the first stone of the company's foundation. After learning about the demand for various public demands, he started working as an LNP Banking Consultant. In order to fulfil the requirements of the people, he transformed this into LNP Mini Bank. To this day, they have provided outstanding customer service throughout the states of TELANGANA and ANDHRA PRADESH in which they have operated. He had believed that being an entrepreneur was right up his alley. He consistently released new services in order to maintain the dominant position of his brand. It is a corporation that provides many services, one of which is financial assistance to the general population in order to boost job opportunities. It offers competitively priced financial services in comparison to those offered by other market service providers.
He became aware of issues affecting rural areas in India, such as Banking, Loans, Insurance, and CA Services Engineer services, and he has been working on these issues for the past five years. A new Android app has been released, and it includes more than one hundred different services. The name of the application is LNP Mini Bank. You may get it through the Google Play store. From 1.5 crores to 3 crores, it has come a long way since then, making remarkable headway along the way. At this time, we have made anything from 40cr to 50cr of progress. Young people who are unable to find work are given the opportunity to grow within their communities through the LNP's provision of retail booths and coverage of local banks. The most straightforward approach to satisfying the financial requirements of the people within their villages
Find out more information about the previously mentioned label, which plans to transform the banking consultancy industry in the days and weeks ahead.
Links
What's Your Reaction?