Abhineet Setu –An engineer ,entrepreneur and Youth Icon of India
Abhineet Setu is the Promoter of Asclepius Wellness Pvt Ltd, an Indian Ayurveda company. He is an aviation engineer with experience working for both Air India and SpiceJet Airlines. The notable authorities of Bihar have recognised and honoured him as the best entrepreneur, and he has been honoured with the "शौर्यसम्मान" He joinedAsclepius Wellness Pvt Ltd with the goal of spreading Ayurveda to the general public due to its importance in preserving good health and restoring individual harmony between mind, body, and spirit.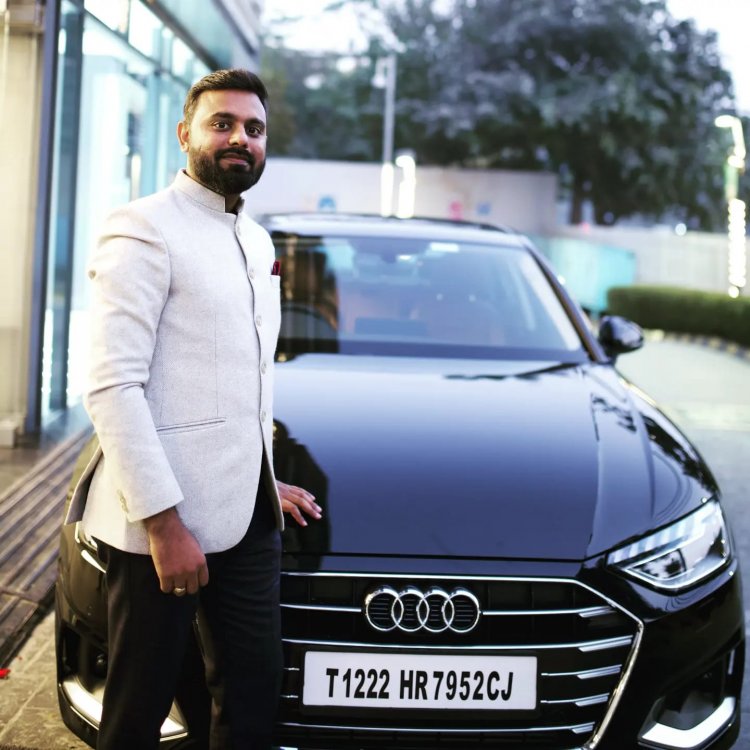 It goes without saying that Ayurveda has been around for hundreds of years and is considered to be one of the most efficient ways to treat ailments and live a healthy lifestyle in ancient India; consequently, the concept and principles of Ayurveda have been applied in the modern world as well. It goes without saying that Ayurveda combines modern lifestyle and health-conscious practises with an ancient concept of using natural ingredients, drugs, and herbs to assist people in living a life that is healthy, happy, and free of stress and disease. Abhineet, who was born and raised in Samastipur, Bihar, encourages others to adopt a healthy lifestyle that is inspired by Ayurveda. This lifestyle incorporates a wholesome diet, meditation, Ayurvedic goods as primary treatment, and yoga, all of which can assist individuals in avoiding illness and leading a happy life.
According to what Abhineet has said, "Because advancing Ayurveda among the general populace is the primary objective of our organisation, we routinely hold free health camps for the less fortunate members of our community. I implore each and every one of you to embrace an Ayurvedic way of life and to centre your primary medical attention on ayurvedic products. There is no need for us to be concerned about our health if we include Ayurveda into our way of life. We are able to defeat stress, which is the root cause of a wide variety of health problems that individuals suffer from in this modern world by following the Ayurvedic way of living.
Abhineet was born and reared in the city of Samastipur, which is located in the state of Bihar. He attended Holy Mission Senior Secondary School for his high school education and VVM SR SEC SCHOOL -RANCHI for his secondary school education. From 2012 till 2017, Abhineet held the position of Operation Manager for the airlines SpiceJet and Air India. He completed his MBA at ICFAI University with an A mark.
In the clinch, he discusses his experience as an entrepreneur. My first company, Candy Corner, was established on November 14, 2015, marking the beginning of my career as an entrepreneur (The Box of Joy). Its primary objective was to become a trusted corporate gifting partner for India's most successful businesses. The company formerly sent personalised printed chocolates and other promotional goods to corporate clients as a thank-you gift. My career in direct selling began with just a handful of people and has since expanded to include more than 17,000 individuals. We planned a comeback in this industry with the largest corporations later in September 2020, when the government created laws on direct selling, and we chose ASCLEPIUS WELLNESS PVT LTD as our destination; following the lockdown on October 20, we started functioning with full authorization once again. I was overjoyed to learn that I had won the prize for being the most successful entrepreneur.
Instead of offering them jobs, Abhineet has provided them with a source of income, which has allowed them to hire hundreds of people who were looking for work. Asclepius Wellness Pvt Ltd hires a significant number of young adults throughout its many departments. Benefits and job security are comparable to those offered by other private companies and government agencies at his employer. Abhineet's enthusiasm served as the engine that propelled his accomplishments and propelled his company to new heights. Because of his focus and determination, he was able to notice things in the world in a way that most others don't.
Abhineet comes from a long line of educators in her family. The success he has achieved is in large part due to the influence of his parents, both of whom have held teaching positions in the past and who have had a big bearing on his life. At the age of 24, he was already an accomplished business entrepreneur who had attained success. Despite the fact that nothing was simple or uncomplicated for him, he experienced both highs and lows throughout the course of his entrepreneurial career. There was a time in his life when he was so strapped for cash that he couldn't even afford to buy gas for his motorcycle. During this time, he even went without lunch and dinner in order to put some money away for the following day. He was struggling to breathe beneath the pressure of the bank loans. He has learned more from the experiences of his life than he ever could have from even the best MBA programme. Even though his closest friends made fun of his ambitions and objectives, he never wavered in his concentration and commitment, and he continued to work toward realising his dreams and following his heart's desire. Before God had him wait, he constantly worked on improving his ability to wait. Now, he may take pleasure in the fact that he owns an Audi A4 Technology as well as a nice yearly package.
The passion that Abhineet had was intrinsic, and it drove him to put in a lot of effort, be determined, and be creative in order to achieve his goals and make the great accomplishments that were achievable. Because of his intense ambition and his capacity to go beyond any odds in order to obtain the desired results, he had worked his way to the top of his industry.
Join Asclepius Wellness Pvt Ltd in the Ayurvedic movement to raise awareness about Ayurveda.Facebook page -@Teamabhineetsetu
Contact-9555589290
What's Your Reaction?