INC91 | Feature your Startup Story with INC91 | Advantage for Featuring with INC91
Advantages of Getting Your PR Publish With Inc91 Media to Claim More Benefits for Your Business INC91 | Feature your Startup Story with INC91 | Advantage for Featuring with INC91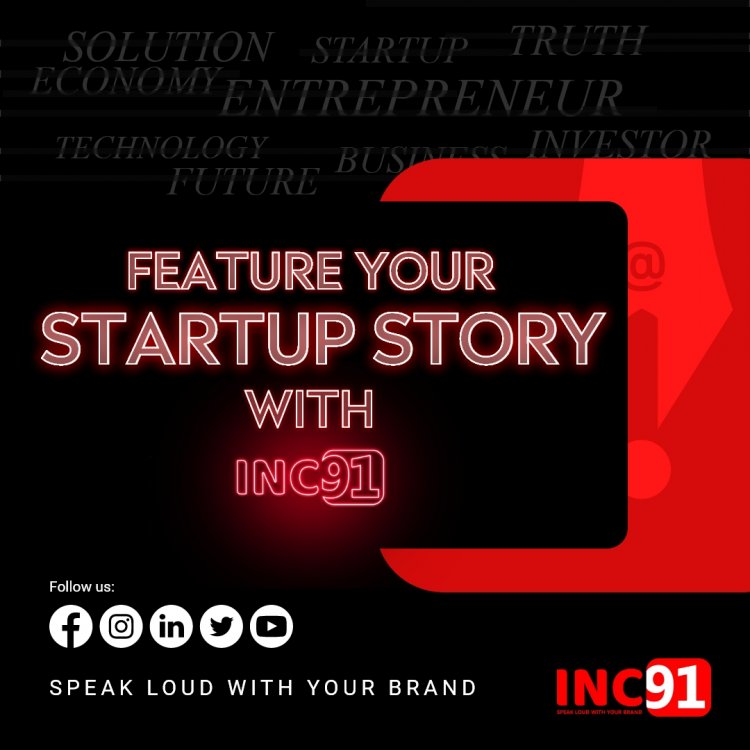 INC91-SPEAK LOUD WITH YOUR BRAND
INC91 Media, An independent publishing global media and educating company for C-Suite Executives, Entrepreneurs, Startups, Founders and other decision-makers in India. INC91 empowers, connects & grows the Indian Startup by providing a deep understanding of the startup ecosystem through data-backed news and analysis. Even in the era of inbound marketing, the art of the press release is alive and well. In reality, an INC91 media release is stronger than ever before.
We serve as a platform for C Level Executives and decision-makers and to share their industry insights, a professionally written and widely distributed press release can help your company to gain coverage in news outlets.
We collaborate with the greatest Startup founders of our day, distilling their lessons into blogs, podcast posts, journals, books, and classes. We're talking about actionable advice, and real-life case studies are not theory.
A variety of popular reasons for releasing a press release involve: sharing business news (obviously), resolving an issue, reacting to a situation, making announcements, relea

sing product releases, sharing prizes, broadcasting accomplishments, sharing details, announcing an upcoming event, or advertising an upcoming book, video, or album release.
We will also dive into some of the most popular press release services that exist and how to go about picking one that is in line with your goals and niche.
How Does PR work for your Startup?
If all you do is crack-out article after article on your website and expect to draw organic traffic, you won't get too far. Good product placement will increase sales leads and drive growth. Consumers believe third party endorsements more than Ads, press release writing services represent the key to efficient and affordable self-promotion. We cover all kinds of companies, which are directly or indirectly involved in this business world.
It will take a market viewpoint that helps readers to get a good view of the enterprise, the ethos and the meaning that moves it towards excellence. Focusing on the strategy, philosophy and strategic roadmap of the company, we will also speak about the leadership of the CEO and the complexities of operating the company. This is where the power and effectiveness of a well-crafted press release come into play.
Here are some more benefits of sharing your press release with INC91 Media.
Opportunity to brand yourself in the industry
Press releases are a great way to build trust and credibility in your field of activity. An outstanding PR campaign will give you the opportunity to mark yourself as a high-profile artist/business owner and underscore the distinctive characteristics of your products.
Control your story
While our relationship with the media may have improved after the turn of the previous century, a press release always gives you confidence over your news. A press release is the chance to express what is important to you, share the motivations behind a service, clarify the distinctive importance of your product, and respond to allegations that others might have made about you, your services, or your business.
Press releases act as a valuable way to improve your website's SEO profile and have valuable backlinks to your website. SEO reaches beyond keywords and has its fingers on everything from image descriptions and alt tags to text, links, and quotes on the website. While it's pretty uncommon, a press release can directly improve your company's search engine results pages when it comes to URL.
And if you have to pay for a press release, it creates a professional partnership with the PR company. When the first press release goes well, they will be able to give you volume discounts in the future. It is, therefore, necessary to develop a strong working relationship with a reliable PR firm that can support your company and your brand.
Increase sales potential
Apart from building credibility and helping you to remain in the public eye, press releases will also raise your profit margins by showcasing the most impressive core advantages and functionality of your products. It's worth noting that this is not a certainty, but it will surely happen if the brand and services are placed accordingly in a market that suits the needs of the audience.
The press release that creates a buzz about the commodity, It can be a perfect way to get a price boost that is normally enough to offset the expense of the press release.
Advertisement value
Press releases have an impact on ads, but indirectly. The biggest difference between a news release and other promotional processes is that a press release charges less. Advertisement or ad worth, which calculates how much the ad will pay in the media targeted by the press release, is a statistic used in the reviews of online PR companies.
Proactive Reputation Management
Many media releases that gain massive coverage falls under the heading of "announcement." But there's another type of media updates that the business will definitely benefit from-the publication of consumer alerts. This segment consists of fire warnings, safety issues and more. If done in the best manner, such launches will help create a brand and alleviate crises.
Content for other marketing channels
The material that should be used in the press releases is very common from release to release: an introductory paragraph providing more detail on the story; context information on the company; quotations from employees; and, of course, your boilerplate at the end. But then there's the extra stuff that takes a press release from a traditional rock-star status.
Media coverage
Let's not forget that if the media want to take up your story and cover up your business, you will have a huge opportunity to improve your branding, publicity, and revenue. For many, that's the end aim of a media release and a successful marketing strategy.
The most critical aspect of every media release is to ensure that it makes sense in the context of your business, your audience, your priorities, and your messaging.
If you want to count on an uninterrupted flow of first-hand content with real substance crafted to increase your odds of staying in the limelight, check out on our press release and find out how we could help you and your brand steal the show in any industry.
You can reach us anytime at hello@inc91.com or simply just log in to inc91.com with your email id. For more info call us at +91-9582606707
Or Submit your Link: https://www.inc91.com/StartupFounder-story-on-Yourstory-Media-584
What's Your Reaction?