iBrandox is India's premier provider of website revamping and redesigning services.
iBrandox offers customised website makeover and upgrading services. Rachit Chakarwarty, the founder, feels that a well-structured website with updated code, content, and aesthetics improves user experience, boosts revenue, and lowers bounce rates. iBrandox provides Website Revamping & Redesigning Solutions to help brands dominate the internet.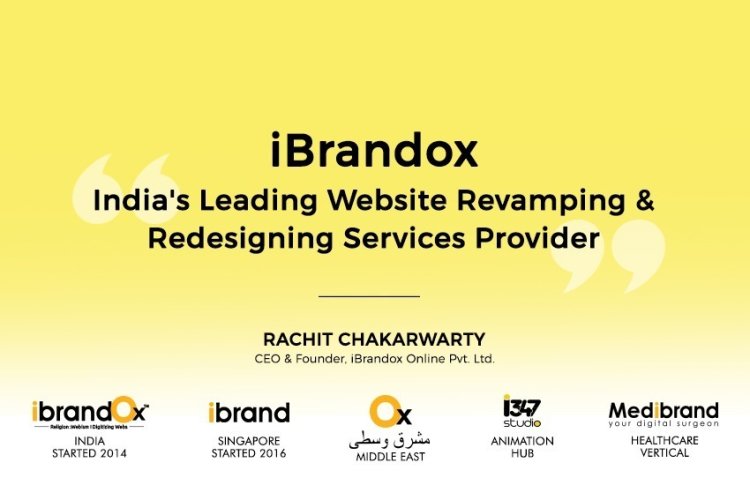 Because of the altering trend in the market and the migration of businesses to the internet, web design and development, in addition to periodic revamping and re-designing, have become absolutely necessary for expanding any existing firm. It helps one produce long-term consumer relations by building the brand's recognition as well as generating credibility and confidence in the brand.
Developing a website with the purpose of drawing in prospective clients is essential to the expansion of a company in this day and age, when individuals spend the bulk of their waking hours online. iBrandox is a prominent website development, revamping, and re-designing firm situated in Gurgaon. The company is committed to giving individualised solutions to their customers in order to assist them in expanding their businesses.
In 2014, Rachit Chakarwarty established this business with the intention of creating websites for clients that accurately represent the spirit of their companies and present them to customers as high-quality, all-in-one options for their problems. Rachit continues by saying that iBrandox recently completed eight years in the market on September 1, 2022, which is a tribute to the fact that the firm is dedicated to serve its customers with the best solutions for revamping and re-designing their businesses.
Through the use of its unique website solutions, the company iBrandox meets the requirements of its clients for the updating and redesigning of their websites. Rachit Chakarwarty, the company's founder, is of the opinion that a website that is well-structured and has code, content, and images that are regularly updated not only improves the user experience but also contributes to an increase in revenue and dramatically reduces bounce rates. The talented team at iBrandox specialises in providing their clients with the best possible experience by offering Website Revamping & Redesigning Solutions to assist companies in developing a dominant presence on the internet. They achieve this by giving their consumers the greatest experience possible.
In addition to this, iBrandox offers services related to digital marketing. The company has successfully completed more than one hundred branding projects and has worked with clients in more than thirty industries, such as B2B, politics, gaming, manufacturing, FMCG, and fashion, among others. iBrandox is a company that provides businesses with digital marketing solutions. These solutions help businesses reach their target audience by curating content that is particular and relevant to the brand. This connects customers to the company, which in turn leads to improved engagement.
iBrandox has assisted in the digital reinvention of brands and pledges to develop the optimal strategy in accordance with the specific requirements of particular businesses while maintaining a primary concentration on the intended audience. The office that handles the company's digital marketing is headquartered in England, and its primary mission is to facilitate the company's commercial operations across a variety of platforms by producing creative outcomes that are focused on producing desired results.
In addition, iBrandox is capable of designing a wide variety of logos, complete with colour, texture, and the appropriate layout, including typography, icons, sketches, mascots, emblems, combination logos, and a number of other possible choices. In addition to designing the user interface and user experience of websites, the company also offers services such as the creation of PowerPoint presentations, stationary and emailers, flyers and pamphlets, and product catalogues.
Rachit Chakarwarty, the founder of the company, envisions expanding it to a worldwide level in the not-too-distant future in order to broaden the scope of the company's operations. Following the recent launch of its vertical in countries such as Singapore and regions of the Middle East, iBrandox has set its sights on being a technology-driven corporation within the next five years.
What's Your Reaction?