HAMMER- India's first Athleisure Tech brand
What do most startups have in common? It's not the funding, investment or a mutual after college plan. It is, in fact, a resolution to add some ease to current living patterns. This belief is enough to kickstart the business and can turn dreams into reality. One similar story is of HAMMER. HAMMER, a small town based company, deals in Hearables and Wearables. It attracted fame in a short span of 3 years. This wasn't just because of its trendy product portfolio but because of the founder's unique ideology of providing comfort in tech. HAMMER fosters itself on the ideology that its potential customers should never compromise their comfort.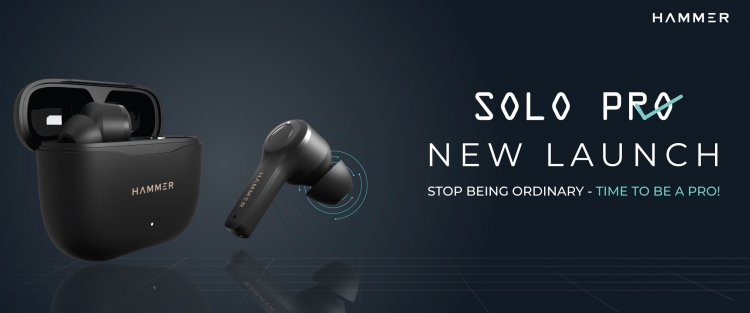 Dive into the flashback!
2019 was its year of inception. But this wasn't the time it actually started. Rohit Nandwani, the CEO and owner of the company, firstly started Ringtel marketing in 2016. It was an electronic accessory distributor of some of the top brands such as Sony, Bose, and Samsung. From 2016-19, he gained thorough knowledge of the accessory market along with a perspective to launch his own brand.
HAMMER registered as a brand in Jan 2019, and the brand doubled its turnover in just the second year of existence. It launched its official ecommerce website which became the official marketplace for the brand.
It slowly established itself as India's first Athleisure tech brand. Athleisure accounts for "Fitness+Comfort." The brand made it possible to get comfort and fitness together in one plate and built a recognized name in the segment.
Initially, They began with Truly Wireless Earbuds (TWS) and have now extended their products according to the demand. The top categories they deal in are TWS and smartwatches. The price range of the products is from Rs. 999 to Rs. 3999. Both these categories are of much importance due to the ongoing pandemic. In audio gadgets, they have wireless earphones, truly wireless earbuds, wireless speakers, and headphones. The second category is wearables, the brand has fitness bands and fitness smartwatches for a comfortable and smart fit.
The products of HAMMER that hit the market like no one else are HAMMER KO bluetooth earbuds, Black and White Airflow tws, Pulse smartwatch and Bash wireless headphones. All these products are running successfully in the market. The shape and design of products is alluring, the features are incomparable, and the price range is really affordable. KO is a sports edition of TWS earbuds, and you can use it during workouts and running. It holds a stiff grip with the earhook design which is helpful during intense workout sessions. Pulse is a smartwatch that can monitor heart rate, blood pressure, blood oxygen, and body temperature. It was really helpful during the pandemic as it helped the users monitor their health statistics and keep their bodies in check. This feature was a big hit and a unique selling point for the brand.
Recently, HAMMER launched a new product named Solo Pro. It holds several unique features compared to any other product. It has a Double mic feature with a Bass boosted system for an HD sound experience. It has high sensitivity touch controls with an ergonomic premium design which makes it best for calling purposes. It is convenient with both Google and Siri assistants and comes up with Bluetooth V5.0 for uncontracted and smooth listening..
The PM of our Country initiated the Make in India movement, inviting various companies, brands, and many young entrepreneurs to start manufacturing their products in India. This will create employment and also a lot of opportunities for the youth of India. This will also motivate young entrepreneurs to start their business in India. HAMMER has also initiated the Make in India move to foster the Indian economy.
Tech industry has a never-ending future and is only going to expand for years ahead. Carrying the similar belief, HAMMER is coming up with more innovative and tech-oriented products. With the advancement in technology, it is looking forward to giving its customers a better experience. They are making advancements with each launch and taking up a customer-first approach.
What's Your Reaction?