Title: Revolutionizing Content Creation & Distribution with Generative AI: AiVANTA Story 
AiVANTA Technologies pioneers Generative AI, revolutionizing content creation and distribution. Founded by Rupak Shah, Karan Ahuja, Rajesh Grover, and CTO Rajat Tyagi, the company addresses barriers to Generative AI adoption. Their mission includes raising awareness, mitigating job fears, ensuring quality, and nurturing an innovative culture. AiVANTA's unique strengths lie in co-founders' diverse skill sets. Currently, they're developing a project seamlessly integrating Generative AI into clients' IT systems. AiVANTA stands as a beacon of innovation, committed to shaping industries through transformative technology.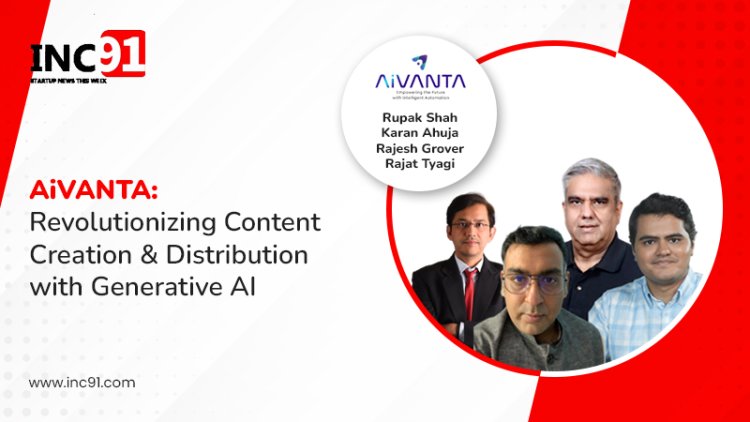 Introduction:
In the ever-evolving landscape of technology and innovation, few advancements have proven as transformative as Generative Artificial Intelligence (AI). This ground-breaking technology has not only captured the imagination of tech enthusiasts but has also piqued the interest of businesses across diverse industries. Among those at the forefront of harnessing the potential of Generative AI is AiVANTA Technologies, a pioneering company dedicated to unlocking the immense business value it offers.
Founding Inspiration:
AiVANTA Technologies was born out of the first-hand experiences of its founders, who witnessed the remarkable capabilities of Generative AI for crafting digital content. This first-hand exposure sparked the idea that Generative AI could revolutionize the way content is created and distributed across the horizontal and vertical functions of enterprises
The Founders:
At the helm of AiVANTA Technologies are Rupak Shah, Karan Ahuja and Rajesh Grover. With decades of experience in the advertising, entertainment & content production, they bring a wealth of experience to the table. Rajat Tyagi has recently joined them as the CTO.
Identifying the Challenge:
However, even with their enthusiasm for this ground-breaking technology, the co-founders recognized that many organizations were struggling to embrace Generative AI. Three key barriers stood in the way:
Lack of Awareness: Many decision-makers within organizations were unaware of the potential of Generative AI and how it could benefit their businesses.
Job Security Concerns: There was a widespread fear among employees that the adoption of Generative AI might lead to job displacement, which hindered its integration.
Quality Challenges: Initial attempts at implementing Generative AI often faced quality issues, making organizations hesitant to fully commit to this technology.
AiVANTA Mission:
With these challenges in mind, AiVANTA Technologies was founded on the principle of solving this adoption conundrum. Their mission is to bridge the gap between organizations and the untapped potential of Generative AI. They are committed to:
Raising Awareness: AiVANTA actively educates organizations about the benefits of Generative AI, helping them understand how it can be a valuable asset to their operations.
Mitigating Job Fears: They work towards dispelling job security concerns by showcasing how Generative AI can enhance the productivity and creativity of employees, rather than replace them.
Ensuring Quality: AiVANTA provides solutions and support to overcome initial quality challenges, ensuring a smooth transition to Generative AI adoption.
Nurturing a Culture of Innovation:
At the heart of AiVANTA's organizational philosophy lies a deep commitment to nurturing an ecosystem that thrives on self-learning. They foster a culture that not only embraces change but actively seeks out new frontiers of growth and innovation. Within this dynamic environment, AiVANTA holds a fundamental belief in the intrinsic motivation of their employees, a vision that aligns perfectly with the founders' leadership style.
Unique Strengths:
AiVANTA's core strength lies in the complementary skill sets that each of their co-founders contributes. With expertise in digital content, product development, content business management, and corporate client engagement, their team is well-equipped to drive transformative change through the application of Generative AI.
Looking Ahead:
AiVANTA Technologies is currently working on a unique project that seamlessly integrates Generative AI tools into their client's existing IT systems and processes. This approach is highly customizable and scalable, addressing the challenges of Generative AI adoption with precision.
Conclusion:
As the digital landscape continues to evolve, AiVANTA Technologies stands as a testament to the power of innovation and commitment to overcoming challenges. With a vision to unlock the potential of Generative AI and a mission to educate, empower, and enhance, AiVANTA is poised to shape the future of industries through the transformative capabilities of this ground-breaking technology.
For more information about AiVANTA Technologies and their pioneering work in Generative AI, visit their website here and connect with them on LinkedIn here.
What's Your Reaction?