The second location of professional MMA fighter PrakramDandona's ROAR MMA Gym has opened. A Revolution in Fitness
New Delhi, April 13, 2023 - Professional MMA Fighter is pleased to announce the inaugural inauguration of ROAR MMA's second location in Pacific Sports Complex, GK1, New Delhi. This new location ushers in a new era of fitness for the community and is destined to become a centre for those seeking to enhance their physical and mental health.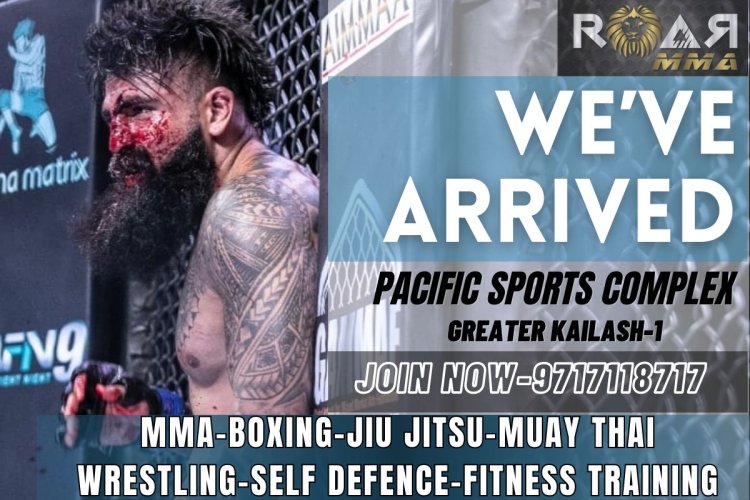 ROAR Mixed Martial Arts (MMA) Gym is a cutting-edge facility that provides a thorough training programme for all levels of competitors, including novices, amateurs, and seasoned pros. It offers a staff of skilled, experienced, and qualified trainers that give individualised instruction and assistance to help customers reach their fitness objectives. Additionally, it is outfitted with the most advanced training equipment currently available.
"We are thrilled to open our second location and expand our reach to the community," said PrakramDandona, a Professional Mixed Martial Arts Fighter, trainer, and owner of ROAR MMA Gym. "We are excited to open our second location and expand our reach to the community." "In our opinion, training in martial arts is about more than just getting in shape physically; it's also about developing mental toughness, discipline, and self-assurance." Our brand-new location is intended to be a welcoming space that is secure and encouraging for people of any age, gender, or fitness level.
The ceremonial kickoff for the new Pacific Sports Complex in GK-I, New Delhi, took held on April 11th, 2023, as part of the festivities for the grand opening. At the event, participants had the opportunity to meet and talk with the instructors, as well as get free courses, demos, and freebies.
"We are excited to welcome everyone to our new branch and show them what ROAR MMA Gym is all about," said Prakram Dandona. "We are excited to show them what ROAR MMA Gym is all about." Everyone who is interested can take advantage of our free trial offer! After you have scheduled a free session with us, one of our experienced trainers will work with you throughout the session to give you a taste of the class before you commit to signing up. This will assist you in strengthening both your confidence in us and your decision to become a member of ROAR MMA.
ROAR MMA Gym's second branch is now open for enrolment, and interested clients can book a free trial by calling or sending a whatsapp message on +919717118717 or visit the gym for a tour and consultation with one of their coaches.
For more information about MMA Gym and its new location, please contact on +919717118717
Contact: PrakramDandona +91 9717118717
Follow us on Instagram: www.instagram.com/Roar.MMA
What's Your Reaction?