The Company of Sudeep Vishwas, SAMRAT TECHSERV PVT. LTD., Becomes a One-Stop Shop for Business Development.
Since its inception in 2020, SAMRAT TECHSERV PVT. LTD., a renowned software development, mobile app development, and IT service provider in India, has accomplished an astounding feat. The company, which was founded by the visionary entrepreneur Sudeep Vishwas, is now valued at over 50 crores. This extraordinary growth narrative is a testament to Sudeep's unwavering commitment and innovative strategy.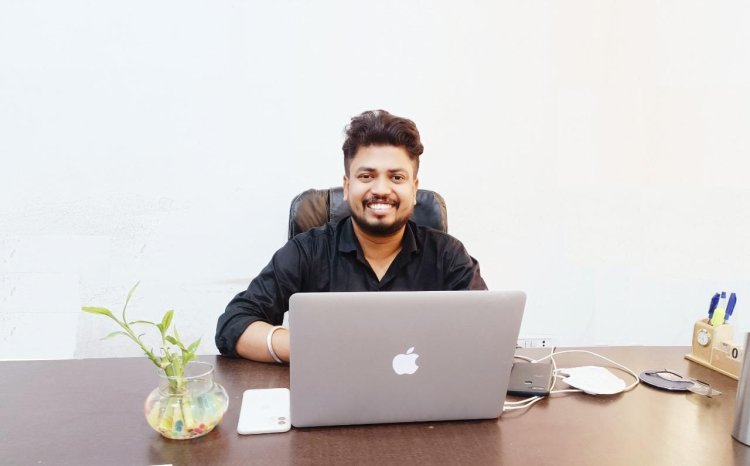 The company with headquarters in Noida has established a name for itself thanks to the breadth and depth of the services it offers, which include telesales and telecollection as well as software development, website building, and digital marketing. Businesses who are looking for high-quality IT services often choose SAMRAT TECHSERV PVT. LTD. to be the company of choice because of its solid reputation for providing solutions of the highest calibre at prices that are among the most affordable.
Indian businessman Sudeep Vishwas, who is 29 years old, is the current CEO of the company and accepts responsibility for different elements of the company's operations, including account management and client relationship management. SAMRAT TECHSERV PVT. LTD. provides clients with first-rate service and a comprehensive assortment of software products by employing a group of seasoned professionals who are specialists in the fields of information technology solutions, web development services, and software development.
SAMRAT TECHSERV PVT. LTD. is a full-service digital firm that specialises in helping companies achieve their growth objectives. The company provides a variety of services, including website design and hosting, as well as digital marketing and advertising. Because the committed team at the company is always ready to respond to questions and offer support, you can rely on them as a trusted partner for any and all of your company's requirements. Their skill in the management of social media platforms, website design, and programming contributes significantly to their capacity to catapult businesses to new heights. In its never-ending pursuit of growth, the company often participates in professional networking events such as conventions and conferences. In addition, it provides a comprehensive range of services designed to improve the effectiveness and efficiency of its customers' operations. Their primary goal is, and always has been, to provide students with high-quality services, training, and development opportunities by implementing creative ideas that encourage achievement.
SAMRAT TECHSERV PVT. LTD. specialises in delivering cutting-edge information technology solutions not only within India but also on a global scale by capitalising on the experience and expertise of its highly qualified people. Their extensive selection of information technology services includes data translation services, technical assistance and maintenance, web design, software development and testing, and website creation. Sudeep Vishwas and his team have built a solid reputation for efficiently resolving difficult issues and consistently enhancing the quality of their offerings, with a primary emphasis on meeting the information technology requirements of small and medium-sized organisations. Sudeep's entrepreneurial energy, passion to customer satisfaction, and steadfast determination to finding solutions to the problems faced by his clientele are all factors that have contributed to the phenomenal growth of the company. Their experience also includes offering technology-based services to private businesses, which further solidifies their position as a reliable player in the market.
Because of his age and level of influence in the business world, Sudeep Vishwas can serve as a model for other people who aspire to be successful entrepreneurs. His conviction that a person's character may be defined by how patient they are in the face of hardship and how positively they respond to wealth acts as a guiding principle for his quest. After achieving great success with the management of SAMRAT TECHSERV PVT. LTD., Sudeep decided to diversify his holdings by establishing two more companies in the information technology services industry. This move was a testament to Sudeep's extraordinary abilities as an entrepreneur. The capacity to form lasting connections with others and contribute meaningfully to their lives has been crucial to the success he has enjoyed. Sudeep's reputation as a reliable businessman has been strengthened as a result of the meteoric rise and expansion of the aforementioned endeavours, which now count among their customers people from all over the world.
The sphere of impact of Sudeep Vishwas stretches much beyond his commercial endeavours. He kicked off his professional journey in 2017 by opening a cyber cafe with a meagre investment of Rs. 20,000, and he did so with an unflinching self-belief that acted as the driving force behind his tireless goal. He was certain that his creative ideas had the potential to have a substantial impact on the market; as a result, his ultimate objective was to bring about positive change while simultaneously assuring profitability. He was unwavering in his commitment to achieving his goal of leaving an enduring legacy by skillfully blending a sense of purpose with the pursuit of financial success in his business endeavours.
He has been instrumental in assisting other businesses in the process of making crucial decisions, guiding them through the choppy waters of the market while ensuring that they maintain their course. The contributions made by Sudeep have had a good impact on the design culture of other organisations, giving such organisations with helpful views that will allow them to improve their operations. He inspires individuals to push their limits, accomplish great milestones, and create a meaningful influence in the world, while at the same time highlighting the dangers and difficulties that are inherently associated with business. Sudeep is of the opinion that becoming a business owner affords one the chance to take charge of one's own destiny and to actively contribute to the world. Aspiring business owners should get the education and experience they need to be successful, according to his recommendation, before venturing down this exciting road.
Sudeep Vishwas has been involved in the founding of three additional businesses in addition to the one already mentioned, Samrat Techserv. Soon, the mobile app and website belonging to the fintech startup ShotPe Tech Pvt Ltd will be made available to the public. Grohostin Pvt Ltd, on the other hand, is in the business of providing hosting as well as domain names. In conclusion, the Jan Samrat Foundation is a charitable organisation that makes positive contributions to the development of society.
Sudeep Vishwas' foresight, tenacity, and shrewdness in business are on display in the meteoric rise of SAMRAT TECHSERV PVT. LTD., which began with a meagre investment of Rs.20,000 and has since been valued at Rs.50 crores. Sudeep is unwavering in his commitment to his quest of excellence, thereby establishing new benchmarks for the industry and motivating others to follow in his footsteps. This is occurring even as the company continues to develop and make headway in the IT services sector.
What's Your Reaction?