Learn The Most Effective Web3 PM Methods At Program Strategy HQ
Are you hoping to become a web3 developer or project manager? Are you interested in pursuing a career in the blockchain, web3, and software industries? Due to the novelty of the Web3 idea, its training and trainers are also very limited. Moreover, as the number of developers and blockchain projects grows rapidly, the gap between the supply and demand for web3 project managers widens significantly.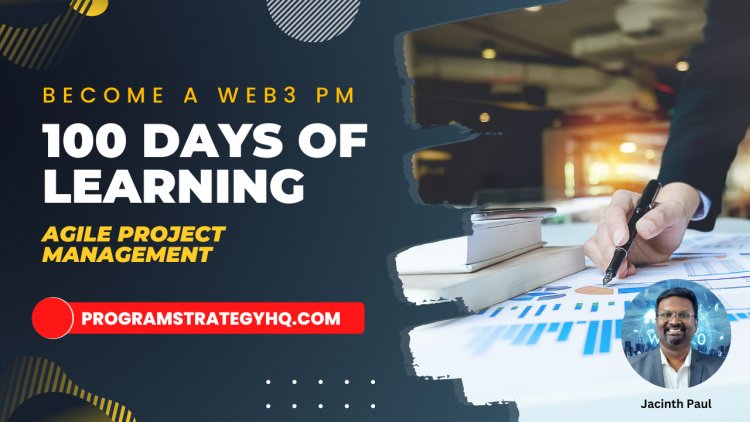 This is the emotion that Jacinth Paul, the founder of Program Strategy HQ, had when he first started writing blogs to address essential questions from team members and other scrum masters, such as "How to estimate stories in agile?" Jacinth Paul is the person who established Program Strategy HQ. "The best way to arrange software releases in an efficient manner."
Jacinth Paul, an individual who has been working on blockchain and web3 projects for more than a year, was involved in implementing agile best practises and providing project management support to launch and test MVPs. She was also a part of the team that was responsible for launching and testing MVPs. Jacinth is a certified Project Management Professional (PMP), Certified Scrum Master (CSM), and ICP-ACC-Certified Agile coach. In addition, he has over seven years of expertise in project and programme management for software projects.
While he was working on technical web3 projects and responding to questions from his teams and those of other project managers, he quickly realised that there is a significant skill gap in leading teams, particularly in project management and agile frameworks. This realisation came about as a result of his experience working with web3 projects. Because of the nature of the day-to-day labour involved in managing a Web 3 project, Jacinth felt forced to create a website for learning and reference that covered everything a Web 3 project manager needs to know.
Beginning six months ago, with the intention of making it easier for any Web3 project manager to implement strategy, he started writing blogs. On January 5, 2023, he began releasing one blog post per day for the following one hundred days. This blog is published at Program Strategy HQ, and its primary purpose is to disseminate information regarding the most effective methods of agile and traditional project management for web3 endeavours.
The blockchain, web3, and software industries are all represented at Program Strategy HQ, which began operations in October 2022. You can find here all of the project and programme management tactics that are necessary for constructing high-performing teams and organisations. The best practises, frameworks, and tips for efficiently managing your software and web3 projects are covered in the topics and resources that are provided.
Agile Project Management for Web3 Projects is Program Strategy HQ's unique selling proposition (USP), and these 100 blogs, which are part of the "100 Days of Learning" campaign for aspiring web2 project managers, scrum masters, and team leads, will contain all of the concepts that are necessary to become a web3 project manager. These one hundred blog pieces will cover every facet of project management, from a basic introduction to blockchain technology to detailed discussions of planning, execution, and delivery.
So, if you are willing to learn the skills, visit https://www.programstrategyhq.com/web3pm, and quench your thirst.
To know more about Program Strategy HQ and the 100 Days of Learning campaign, you can visit their website at https://www.programstrategyhq.com/.
Find them at LinedIn, Twitter, Instagram and YouTube as well.
What's Your Reaction?