iNeuBytes — Providing Students with a Virtual Internship to Bridge the Gap Between Academic Learning and Real-World Work Environment
Virtual Internships are known to provide practical work experience to a student, which plays a crucial role in shaping his or her skills for future employment. The internship experience provides an opportunity to develop people's skills by learning in a real work environment and integrating different work practises to increase their employability in today's saturated job market.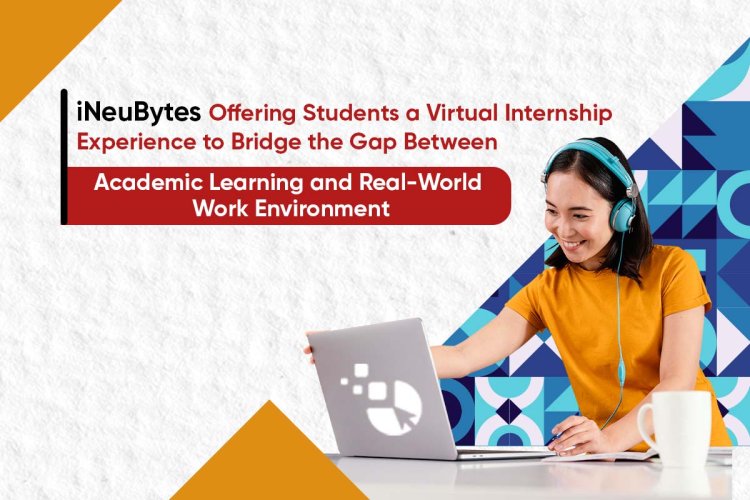 "iNeuBytes" is a company belonging to the education and technology sectors that provides a one-month virtual internship programme for students on cutting-edge technologies such as artificial intelligence, data science, the Internet of Things, web development, and digital marketing in order to bridge the gap between academic learning and real-world work experience.
On October 31, 2022, it was established with the purpose of enhancing students' skills and inspiring them to pursue jobs in cutting-edge technologies. M. iNeuBytes Technology and Services Pvt. Ltd. has Geetha Pratyusha serving as its Chief Executive Officer. Ltd., a company that is of the opinion that given the rapid pace of technological advancement and the growing anxiety regarding the possibility of unemployment in various industries, students should be equipped with practical experience in order to be able to pursue job opportunities or be capable of managing opportunities to freelance.
She therefore launched this virtual internship programme on a variety of cutting-edge technologies, including major industrial projects designed by expert mentors to strengthen students' practical skills at the academic level. In order to meet the needs of the students, she did so by catering to the needs of the students. In addition, she states that this belief is reflected in the company's mission to provide students with the skills and experience they need to succeed in the rapidly changing technology landscape. This mission is to provide students with the skills and experience they need to succeed in the rapidly changing technology landscape.
The Chief Executive Officer, M. Geetha Pratyusha, has a wealth of experience in the field of machine learning technology. She has educated a number of students from all over the world through a combination of online classes and in-person workshops. She is of the opinion that the technology industry in India is facing a significant gap between the demand for skilled employees and the available supply, which poses a significant concern for the future. She is of this opinion because she believes that there is a significant gap between the demand for skilled employees and the available supply. In addition, the NASSCOM-Zinnov 2022 research indicates that India may have a shortfall of 14–19 lakh technology experts by the year 2026. These estimates are from a survey that was conducted in India. In addition, the report indicates that there is presently a talent gap in the technology sector in India of 21.1%. This indicates that there are currently 21.1% of the total positions in the technology sector that are unfilled due to a shortage of workers who are qualified and skilled.
Because of this, M. Geetha Pratyusha was the one who came up with the concept of iNeuBytes, which is to "Educate, Engage, Empower!" The platform places an emphasis on providing students with a comprehensive learning experience that combines theoretical knowledge from e-resources with practical project experience from virtual internships. Geetha Pratyusha is the one who came up with the idea of iNeuBytes. Activities within the programme that focus on developing soft skills, such as developing a résumé and practising for interviews, are aimed to fulfil another objective of the programme, which is to provide career assistance.
In addition, iNeuBytes meets the requirements that students have to educate themselves on many technological topics in order to maintain their relevance and ability to compete in the labour market. Students will have a better chance of getting employment and developing their careers in the technology business if they can understand and become fluent in the most recent technologies. This programme helps students understand and become proficient in the most recent technologies. In addition to this, it gives students the opportunity to participate with other networks, which can help them acquire a broader perspective. This is because engaging with networks allows students to connect with experts who can provide guidance, mentorship, and even prospective career possibilities.
Because of this, the mission statement of the company, which reads as follows: "empower students to use their skills and apply their knowledge and abilities in real-world circumstances," plays an extremely important role in determining the futures of students. The most intriguing aspect of the platform, in addition to the Virtual iNeuBytes Internship Program, is that it is an agile project management platform that provides the guidance of expert mentors for a variety of technologies, in addition to e-resources for guidance. This is the most intriguing aspect of the platform. In addition to that, it provides networking groups, an inner circle programme for developing soft skills, micro-skill tests, a main project, and an electronic certification following successful completion of a virtual internship.
iNeuBytes is currently focused on conducting tech-talk sessions and online webinars on various technologies and aims to expand its work for a better tomorrow. The company has also onboarded more than 110 interns for the virtual internship programme in a span of two months, which is an indicator of the steady progress towards their aim to "educate, engage, and empower."
For more information, please visit:www.ineubytes.com/virtual-internship
What's Your Reaction?