Empowering a Greener Future - The Cleantech Mart Story.
Brutal waves in many parts of India, Record rainfall, flash flood, Pollution, water shortage, crop failure, health issues, lung disease, cancer, list is endless; these are the signals of climate change as a result of greenhouse gas emission. There is an urgent need for individuals and companies to reduce their carbon footprint.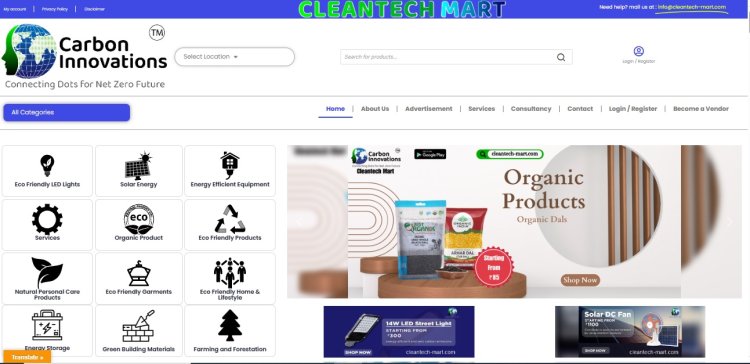 A group of environmental conscious post graduates from IITs, IIMs with defence background and students from Mumbai and Delhi decided to get together and use technology to find a solution. The team led by Cdr Sravan Kumar Khuntia (Retd.) embarked on a journey to develop India's first aggregator for all categories of Cleantech Products, services and Awareness (by Advertisement); thus was born "Cleantech Mart" by IDEALERS B2B Pvt Ltd.
Cleantech Mart, isfuelled by an unwavering commitment to shape a better world for the future generations. Driven by an unyielding love and reverence for nature, they have commenced their voyage to be a transformative force in the realm of sustainability. With a platform that caters to businesses and individual consumers alike, they strive to offer nothing but the finest and safest environment for our precious little children, harmonizing their well-being with that of our planet.
Within few months of the launch, Cleantech Mart has been visited by more than 2 million environmental conscious consumers and companies. Companies have been approaching iDealers for offsetting their Carbon emission. This gave birth to their consultancy arm (carbinnov.com). They havesome very uniquely positioned categories of more than 4000 products which is increasing every day. As per the need of the local customers and MSMEs they have introduced multi-language feature.
With an ensemble of fervent individuals, Cleantech Mart stands as an emblem of distinction, standing tall on the pillar of sustainability. Their unwavering dedication to curate an extensive repertoire of top-tier products, ranging from daily essentials to cutting-edge solar panels, emanates from their steadfast principles of being chemical-free, organic, and profoundly eco-friendly.
Founder and CEO, Cdr Sravan said they have a very passionate backend team who are continuously on the lookout forinnovative products and categories which are added to their site on a daily basis. All of these products have low carbon footprint than the conventional products. Each product has a special sustainability remark mentioned, which is the first of its kind feature for any catalogue.
In the pulsating yet fragmented cleantech market, their advocacy for sustainable practices and eco-conscious products sets them apart as a beacon of change. Each decision they make today will certainly resonate as a reverberating echo of hope for a greener and more luminous tomorrow. Cleantech Mart serves as an empowering catalyst, inspiring individuals and enterprises alike to embrace the mantle of sustainability and take centre stage in the green revolution.
They have been receiving support from all quarters for their noble journey, like IIT Bombay, Harvard Business School, Booth school of Business, VillGrow, IIT Bhubaneswar, IGKV, SSU Innovation Centre, VISA and IKEA. They have already received their seed funding from Startup India. Recently they received the prestigious Prithvi award from Union Law minister Shri Arjun Ram Meghwal as a recognition of their work in the field of Sustainability and ESG.
As their roots delve deeper, their resolve remains unyielding, steadfast in theirpursuit of a cleaner and healthier planet. Cleantech Mart by IDEALERS B2B Pvt Ltd is truly a pioneering start up on the cutting edge of zero-carbon solutions. Let us embark on this transformative journey with them in order to forge an unbreakable bond for a sustainable and vibrant future.
For more details on their sustainable initiatives and products, visit:
www.cleantech-mart.comor download Cleantech Mart from Google Play store.
Instagram: https://www.instagram.com/cleantechmart/
What's Your Reaction?