Dr. Arindam Chaudhuri appreciates Bihar's leading Author & Motivational Speaker Dr. Abhishek Srivastav
Dr. Arindam Chaudhuri (14 Books/ 9 Films/ 3 National Awards) admires the book 'You are Unstoppable' by Dr. Abhishek Srivastav of Patna. According to him, Dr. Abhishek's book is extremely market-savvy. The title of the book is highly pertinent to the current generation, which quickly abandons its dreams. He commends Dr. Abhishek's extraordinary efforts and enthusiasm for penning such a masterwork. In addition, he asserts that the book's contents are highly relevant to the requirements of anyone seeking success examples and motivational techniques.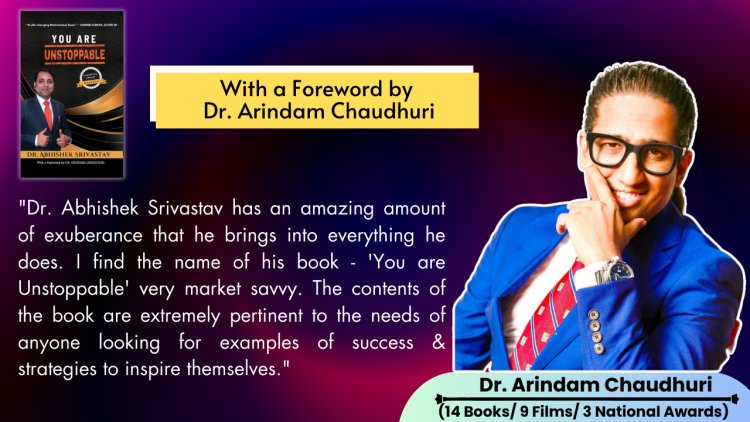 The recognition of the book written by Dr. Arindam Chaudhuri has left Dr. Abhishek feeling utterly overcome with gratitude. He claims that the writings of Arindam Sir have had a profound effect on his life and that this influence continues to this day. He goes on to say that Dr. Arindam Chaudhuri has been a prolific writer throughout the decades, and that whether he is writing about education, motivation, parenting, the Indian economy, God and religion, or anything else, he is extremely logical and insightful. In addition, he recommends that each and every Indian person read the book titled "2047," which was written by Dr. Malay Chaudhuri and Dr. Arindam Chaudhuri. This book lays out a strategy for beating both the United States and China. It provides workable answers that can help India distinguish itself in the international arena. In addition, Dr. Abhishek urges that all of the Boards of Education incorporate the ideas presented in the book '2047' into the curricula of secondary and tertiary education institutions.
Upon being asked about his upcoming projects, Dr. Abhishek says that he is currently working on 2 books which will soon hit market.
Website: www.abhisheksrivastav.com
YouTube: https://youtube.com/@dr.abhisheksrivastav
What's Your Reaction?