Kunal Mendon The founder of Isq Group of resorts and Premium Villas says: Without proper opportunity, it is tough to reach up to the desired success.
With the success of LSQ rooms, Kunal Mendon has gone one step forward to set up Tulip Stays. Tulip Stays has started its first Stay in Karjat called Rivergate. With a vast open area for play and a big swimming pool, this project assures you a wonderful time spent for the entire day. This is probably one of our best resorts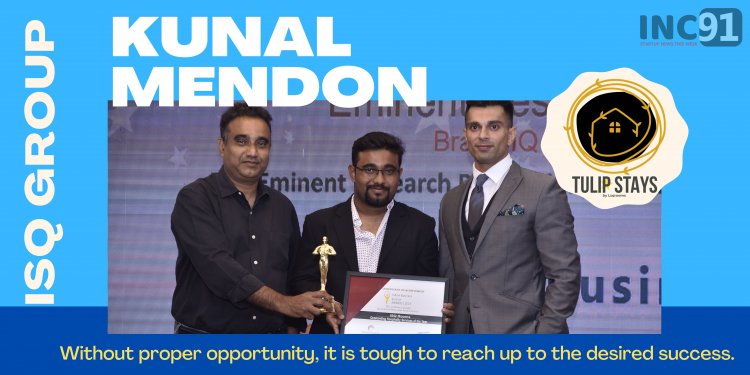 The location is very good especially the river view. The food is very tasty. Three cheers for the service staff. They are very helpful and even go out of the way to help you feel at ease. This resort cuts you from the outer world and makes you sit in the lap of nature. It is the best to place for nature lovers. The plants and trees are worth taking a dig at. The rooms are spacious and some rooms go with a color theme. You will be surprised to see something which you may not have experienced anywhere. The main attraction is the river. You can walk into the river directly from the property. The place is ideal for clicking photos. Kunal a young entrepreneur has always seen a project from the point of view of the customer. He wishes the customer gets a property at a reasonable rate and enjoy their stay with their family and friends and take back good memories. He wishes to set up more such properties in and around the place and make the stay a pleasant one. Rumors say that Kunal will be also setting up a Media House. Three cheers for this young entrepreneur.
About Kunal Mendon The founder of Isq Group of resorts and Premium Villas
Kunal is known amongst his team for his tenacious work ethic and his decision-making sense that made his hotels compete on a high level and thus pioneered the development of the group of hotels. His exceptional decision-making sense has given him plenty of opportunities to even turn an unlikely situation around thereby earning a good reputation for the hotel along with customer loyalty and satisfaction. His innovative ideas and fantastic insights into the industry are appreciated by all of his team. He always had a strange knack for continuously finding new ways to fulfill his guests' expectations and this love, care and concern helped him go well on his way.
Kunal's story of roaring success is worth a mention. He desired to be a hotelier, thus approached his work with dedication and passion. His patience and perseverance towards the goal despite many bottlenecks at the end of it helped him achieve success. Born on *******he has defined the Indian hospitality Industry in a whole new way starting from 1 to 50 chain of resorts, villas and hotels at such a young age is not an ordinary foot.
Success and content both are parts of his inner dedication defined by his attitude towards work that made him won 3 prestigious Indian business Awards felicitated by famous Bollywood personalities.
– In the year 2019 Isq group of resorts was felicitated as the fastest growing hospitality company
– In the year 2019 Isq group of resorts was felicitated as the fastest growing start-up in the hospitality sector.
– In the year 2019 Isq group of resorts was felicitated for outstanding hospitality service of the year.
Kunal always made sure that his resorts and villas to be more than just providing accommodation, room, and food services, but also with an overall innovative experience of other activities and services like Live concerts, Spas, poolside fun, fitness, and yoga classes as per the guest's needs and expectations. Keeping the guests safe is also of utmost priority for every hotel owner and it is perhaps the biggest concern, a great communication skill by listening to your guests, understanding their problems, and valuing their feedback. And these innovative services from every team member of Isq group had turned a guest into a loyal customer. Apart from providing the best innovative experience to the guests Kunal always made sure to pay a frequent visit to his hotels for every minor detail and so much more.
Making Isq group a chain of resorts and villas was never easy for Kunal as it takes a lot of conviction to build a brand but he always said "Develop a passion for learning, If you do it you will never cease to grow" and this made him a firm believer of the happiness that comes from hard work and its learning and passion for it. Though in 2018 he has to go through various challenges and a few losses self faith and hard work never stopped him from achieving what he deserved to achieve, One just needs to trust the process. In the midst of all sorts of challenges, he was successful to take his chain of resorts to the pinnacle of success which is certainly a matter to celebrate and an inspiration for all.
Speculation goes around that the hotel Industry sometimes turns rough and gets continuously challenging by various factors but such is not the case for all if one has the right formula for success despite several challenges in the domain just like Kunal Mendon who has successfully grown 50 chains of resorts and premium villas under his helm, which hence proved if your dedication and intension is pure then ain't no mountain high enough!
What's Your Reaction?