RELEASE OF 'MEDICINE FREE LIFE THROUGH HOLISTIC WELLNESS SYSTEM': A BOOK BY RENOWNED Hollistic Wellness and Lifestyle Disease Reversal COACH, Anoop Gupta.
Anoop Gupta, a highly sought-after Hollistic Wellness and Life style Disease Reversal coach, is proud to announce the release of his groundbreaking book, 'Medicine Free Life through Holistic Wellness System.' This transformative work aims to enlighten readers about the significance of holistic wellness and empower them to lead healthier, happier lives.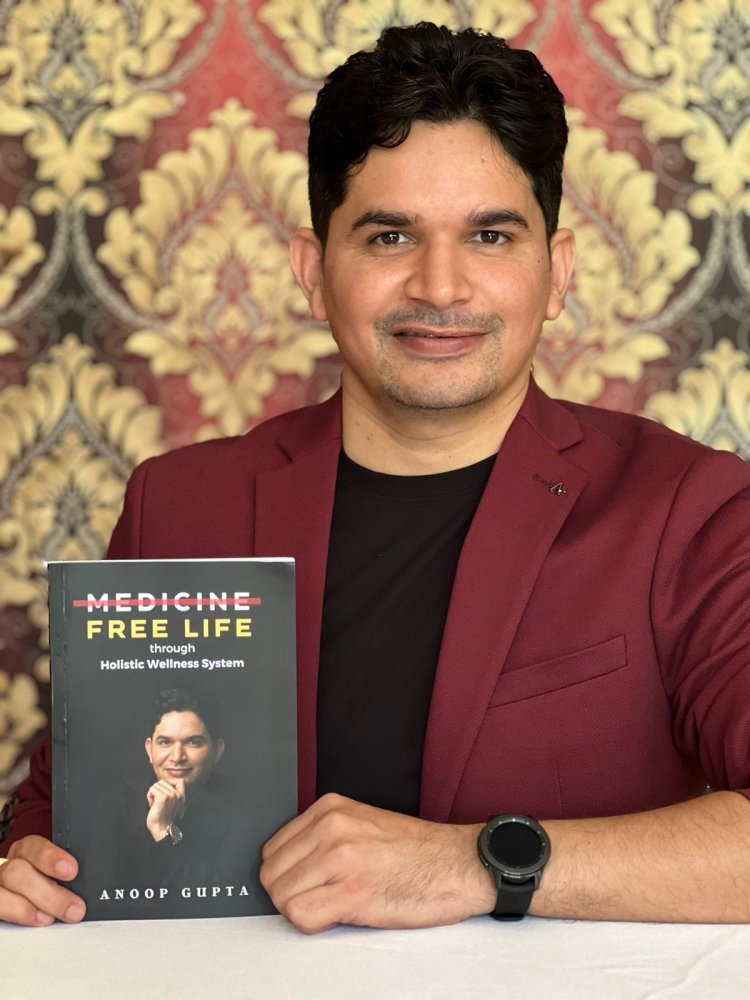 Written in an engaging and accessible style, 'Medicine Free Life through Holistic Wellness System' presents complex ideas in a manner that can be comprehended by both newcomers and experts alike. Anoop Gupta, a distinguished individual holding certifications as a life Coach and Master NLP Practitioner possesses a Master's degree in Biotechnology from Jiwaji University-Gwalior. His vast knowledge and expertise, combined with his passion for assisting others, have earned him recognition in various media outlets, including the esteemed Passion Vista Lifestyle magazine.

With a remarkable client base spanning the globe, Anoop Gupta has transformed the lives of thousands of individuals and businesses through his innovative techniques and practical strategies. His exceptional contributions to the field of personal and professional development have been acknowledged, leading him to be honoured with the Entrepreneur of the Year Award by the Asian African Chamber of Commerce.

'Medicine Free Life through Holistic Wellness System' is not just another self-help book. It is a culmination of Anoop Gupta's years of experience, research, and dedication to empowering individuals to take control of their health and well-being. The book delves into the root causes of lifestyle diseases and provides actionable steps to prevent, control, and reverse them by making transformative lifestyle changes at the physical, mental, and nutritional levels.

Through the use of the latest research, timeless wisdom, and practical insights, 'Medicine Free Life through Holistic Wellness System' offers readers a comprehensive roadmap for transformation. Divided into four parts - treating the root cause not just symptoms, physical wellness, mental wellness, and nutrition - the book provides readers with the tools, knowledge, and inspiration needed to make lasting changes and cultivate a holistic lifestyle.

Anoop Gupta's unique coaching style and holistic approach have gained him a reputation as one of the most sought-after coaches in the world. He firmly believes that everyone has the potential to live a life of purpose and fulfillment. By identifying individual strengths, overcoming limiting beliefs, and creating a personalized roadmap for success, Anoop empowers readers to unlock their true potential.

In addition to his coaching endeavours, Anoop Gupta is a published author, offering insightful books on personal and professional development. 'Medicine Free Life through Holistic Wellness System' is his latest contribution to the field, reflecting his unwavering passion for assisting others. Through his work, Anoop has created a dynamic community of like-minded individuals who share a common aspiration for holistic success.

'Medicine Free Life through Holistic Wellness System' is set to revolutionize the way we approach our health and well-being. With its engaging writing style, comprehensive insights, and practical guidance, this book is a must-read for anyone seeking a holistic approach to leading a healthy and fulfilling life.

For more information about Anoop Gupta and his book, please visit his website at.
What's Your Reaction?