More than lakhs of people in 17 countries have been influenced by Manisha Thakkar.
We now present The Origin. It's a place where people who wish to alter their perspective on life go to do so. Our current woman in charge, Manisha Thakkar, has a mission to spread joy and peace throughout the world.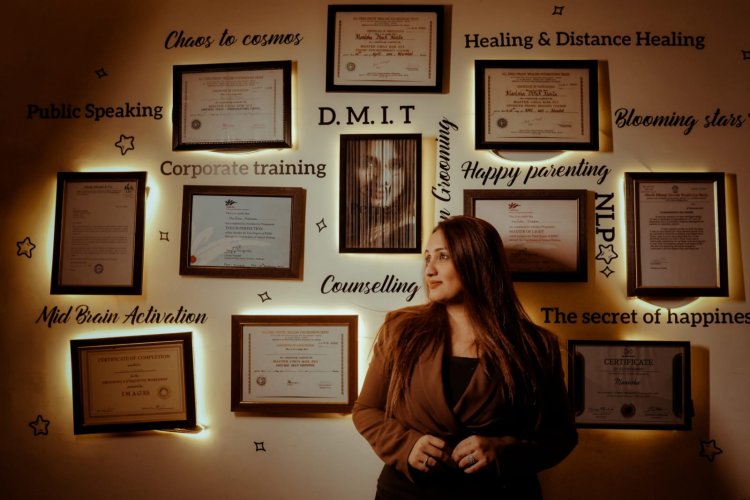 Her primary concentration is likewise on the sprouts, often known as youngsters. She is of the opinion that each and every child need to have a personality that is both vivacious and endearing. that each and every kid, in their own special manner, should be given the opportunity to succeed. She offers to be the tool of sculpting in the process, but she does it in a way that does not impede the development of her students as individuals who have their own distinct identities. She is an Image Consultant, a Healer, a Counselor, and a Life Coach all rolled into one. The students that she teaches on board receive a comprehensive range of services from her. Personality development, activation of the middle brain, counselling, parenting, grooming, and healing, as well as neuro-linguistic programming (NLP). On Instagram, she already has over 4,000 admiring fans who are in awe of her skill set.
The following are the courses that one can opt for by consulting -
HAPPY PARENTING-A strategy or language understood by the brain. Happy Parenting is all about developing a wonderful dialogue to raise your child positively. In addition, interactive seminars are used to teach parents new skills.
M.I.T (DERMATOGLYPHICS MULTIPLE INTELLIGENCE TEST-DMIT is One such test that scrutinizes fingerprint patterns to provide a comprehensive analysis of your developing brain and its proficiencies, preparing the parent to nurture a champion in the young individuals for the tomorrow.
MID-BRAIN ACTIVATION-Midbrain stimulation is one such meticulous intervention that can assist young brains in unlocking their full potential by actively using both brain hemispheres.
BLOOMING STARS-(hOLISTIC TRANSFORMATION ) .This is a paramount endeavour for Manisha, and she has already been recognised for it. Manisha also has an entirely self-designed project. She had always hoped to change the lives of millions of people. She desires to generate assets for the future through her perseverance and commitment to her goal. Children are like blossoming stars, and with the right balance, they can do amazing things in the near future.

Emotional transformation-Anger, stress, time management, and respect for the elderly are all emotional issues.
Mental transformation examines leadership attitude, the law of attraction, and goal setting with optimism.
Physical transformation-Body language, communication skills, good and poor touch, home and school environment, and, of course, exquisite dining are all parts of physical change.
Spiritual balance entails first being a good human being, then the relevance of karma, mass healing, and meditation, which, when attained, provide the road to becoming a skilled, good human being with a positive attitude on life.
WOMEN GROOMING- Quite a grooming experience that includes everything from skin to wardrobe to presentation, body language, fine dining, and so on. Comprehensive programs designed exclusively for women to help them become their greatest selves from the inside out.
NLP (NEURO-LINGUISTIC PROGRAMMING- It focuses on good communication not just with individuals but also with our brain to transmit and receive proper signals that lead to correct actions Maniisha, a trained NLP instructor, walks you through a holistic view of the hegemony of intra communication.
THE INTEGRAL WELLNESS PROGRAM-Through years of research and specialisations, she combined modules to build the Integral Wellness programme for adults, which will assist to complete the entire by aligning and balancing the essentials required for robust intellect, physique, and spirit.
CORPORATE TRAINING- Maniisha has over 10 years of training experience and has worked as a trainer for Tata AIG, leading networking firms, corporate houses, educational institutions, and other organizations. So far, she has touched lakhs of live through her many life-changing training workshops.
A professional life coach and counsellor, Maniisha Thakkar. She began providing her assistance under the name The Source, which is a manifestation of the fact that she is currently and will continue to be the Source of Happiness for everyone. - The Origin of. Her mother provided both the background narrative and the initial source of motivation for her to pursue this line of work. As a result of Maniisha's mother's sickness, Maniisha spent the most of her youth in the company of other people who had the disease. She was able to bring a smile to their faces by the guidance she provided. As a direct result of it, she made the decision to pursue that path as a profession. She is aware that the power of her words may cure people and help millions of people. She has been working as a Life Mentor professionally for the past 14 years. She leads classes for participants ranging in age from six to eighty. She has made it her mission to disseminate and impart her knowledge in the hopes of promoting everyone's physical, emotional, mental, spiritual, and social well-being. Her primary focus is on providing people of all backgrounds with comprehensive personality development opportunities. Counseling in the areas of NLP, joyful parenting, midbrain activation, and personality development are just few of the acclaims that have been bestowed upon her services. She became an expert in a variety of therapeutic approaches and majored in psychology. Her contributions to the field of personality development and public speaking seminars have earned her recognition on a variety of different platforms, and she has received awards for those accomplishments.
Therefore, make haste and contact her at the following locations as soon as possible to schedule a consultation.
https://linktr.ee/maniishathakkar
What's Your Reaction?