From Sales Struggles to Marketing Mastery: Sriharsha Nallamilli's Inspiring Career Change
Individuals should at some point in their careers consider if they are pursuing their actual love or merely working for a salary. These sensations of discontent, worry, anxiety, and exhaustion are frequently indicators that it may be time for a change. Early in his career, Sriharsha encountered these obstacles and made the courageous decision to switch from sales to marketing.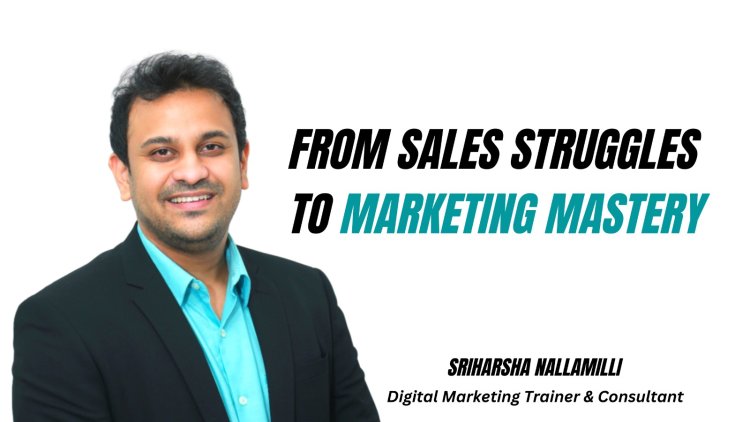 Sriharsha was able to provide the subject of marketing a fresh viewpoint because to his significant experience in sales, which he brought with him. He had a comprehensive understanding of the customer journey, from the initial target prospect through the final conversion, and he used this knowledge to the development of successful marketing strategies. In spite of the challenges he had while growing his career in sales, Sriharsha was able to draw on those experiences to develop a deeper comprehension of company objectives from the points of view of both sales and marketing.
Today, Sriharsha is an accomplished marketer who is acknowledged as a thought leader in the sector. He is an excellent illustration of a hybrid marketer since he successfully combines his knowledge of sales and marketing to propel the expansion of his company. His story is illustrative of the value of tenacity and the significance of directing one's professional life towards activities that are personally meaningful to them.
How it started:
After earning his master's degree in Sales and Marketing, Sriharsha was excited to launch his career in business development. He had been preparing for this moment for quite some time. He considered it a practical and safe choice that also offered the possibility of earning a respectable income.
In the beginning, he had a very easy transition into his new post since he took the time to familiarise himself with the business, its operations, its employees, and its procedures. However, once the honeymoon time was over, he was forced to confront the expectations that he would deliver on his Key Performance Indicators (KRIs). He found himself inventing excuses for why these goals were not reached, and this led to many job changes.
This story demonstrates how important it is to select a job path that corresponds with one's passion and purpose, as opposed to merely pursuing stability or convenience in one's professional life. A profession that provides fulfilment demands not just hard effort, but also a profound sense of purpose and devotion to one's own personal objectives as well. People have a better chance of finding success and contentment in their professional lives if they follow the interests that truly excite them.
The key struggles:
At first, Sriharsha thought that his struggles in sales were due to a lack of luck. However, upon reflecting on his experiences, he was able to identify the key challenges faced, which are common to many sales professionals. These struggles included:
Getting rejected by potential clients.
Competing with other salespeople.
Struggling with cold calling.
Meeting and exceeding sales quotas.
Managing time effectively.
Building strong relationships with clients.
Struggling to find enough leads.
Overcoming objections from potential clients.
Maintaining motivation through the ups and downs of the sales process.
Adapting to changing market conditions and customer needs.
By recognizing and addressing these struggles, he was able to gain a better understanding of the challenges that sales professionals face and find ways to overcome them. This is a valuable lesson for anyone looking to build a successful career in sales, or any other field. It is important to identify and address obstacles, to achieve success and reach one's full potential.
The three big mistakes:
It is common practise for sales professionals to seek advice and direction from their more successful colleagues; yet, doing so may be a mistake. It is essential to examine one's own working patterns and what drives them before one goes looking for assistance from outside sources. One must inquire within oneself as to whether or not they are putting forth sufficient effort, maintaining their concentration, and experiencing motivation. In addition to this, they need to do an analysis of the company and its approach to the sales process. Are the appropriate assistance, strategies, and chances for growth being made available?
To be successful in sales, Sriharsha says it is important to avoid these mistakes:
Blaming the product for your underperformance.
Expecting other salespeople to train and mentor you.
Making excuses instead of taking responsibility and finding solutions.
By avoiding these mistakes, sales professionals can focus on continuous improvement and strive for success. Remember, success in sales requires a combination of self-reflection, determination, and support from the organization.
The self-made marketer:
Sriharsha overcame his sales struggles and excelled in the field, but he eventually realized that sales weren't his true passion. This realization led him to reflect on his strengths, interests, and where he could bring the most value. He discovered a passion for marketing and utilized his creative side to excel in this field.
Making a career transition is never easy, but here are some tips he shares for anyone looking to make a change:
Seek out expert advice and knowledge online.
Put your learning into practice.
Continuously improve through practice.
Overcome the fear of failure.
Sriharsha stands out among marketers due to his hybrid background in both sales and marketing. In today's business world, it's often noted that sales and marketing don't collaborate enough, and this can be a hindrance to organizations. However, he serves as a bridge between the two functions, having successfully transitioned from a sales background into marketing without losing touch with the sales and business development aspects. Organizations must understand the value of having both sales and marketing working together for the benefit of the company, and he embodies that ideal.
Tips for making a career transition:
Many salespeople get dragged into the profession despite a lack of interest as they are busy piling up experience in the field. This leads to a lack of job satisfaction, and it gets to an extent where the organization decides to take you off or you decide to make a switch. Both are right in their way.
He says, before making a switch further, ask yourself one question "Am I interested in making a career in sales?" go with your instinct, listen to what your heart says, and then take a step further. There is nothing wrong taking a pause in your career and think about the way forward. It makes you into a better person.
For sales professionals looking to transition into marketing, he suggests the following:
Deepen your understanding of the marketing domain.
Acquire hands-on experience with marketing techniques and tools.
Build relationships with marketing experts.
Expand your knowledge of digital marketing and data analytics.
Highlight your transferable skills, such as strong communication and problem-solving abilities.
Obtain a marketing certification to demonstrate your commitment and expertise.
Seek out a mentor in the marketing industry for guidance and support.
Sriharsha is a seasoned marketing professional with over 10 years of experience in inbound/outbound marketing, paid marketing, SEO, email marketing, product marketing, and account-based marketing. He possesses a passion for utilizing innovative marketing techniques and tools to drive growth for businesses across various industries, including IT, ITES, manufacturing, and EdTech. He holds a digital marketing certification from Universiti Teknologi Malaysia and has completed an executive management program in strategic marketing and analytics from IIM Rohtak. With a proven track record of success, Sriharsha has also conducted digital marketing workshops and trained over 200 individuals in the core concepts of digital marketing.
Follow him on LinkedIn:https://www.linkedin.com/in/sriharsha-nallamilli-b6403821/
What's Your Reaction?