The Skyward Ascent of Earkart's Meteoric Journey
There was once upon a time a young man who was head over heels in love with a fantasy. A wish to compose a tale that would be told in each and every home and community in every part of the earth.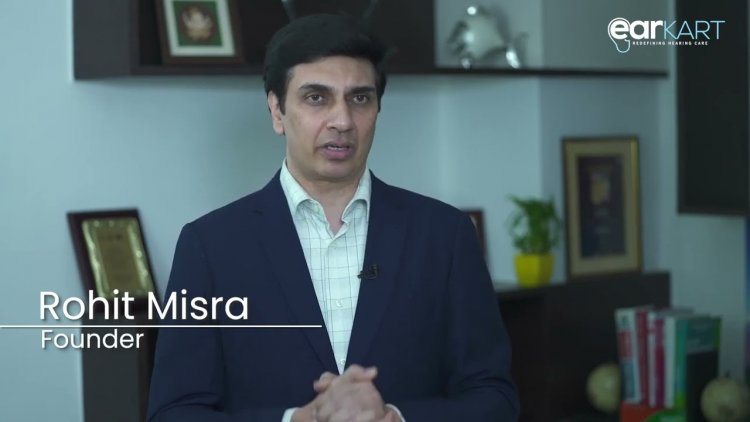 But there was this one significant adversary in the narrative, and he asked, "How could you hear if you cannot hear?" Mr. Rohit Misra's quest to make sure that everyone "heard" his story started when the protagonist of this story had a good laugh and chose to make friends with the antagonist. This marked the beginning of Mr. Rohit Misra's adventure.
This is the narrative of Mr. Rohit Misra, a renowned personality in the field of hearing aids who has spent nearly three full decades working in the field of healthcare. His first job in the hearing aid market was as the Managing Director of "Starkey," a company that is now internationally recognised for its hearing aids. There, he gained a bird's-eye view of the hearing aid ecology and discovered all of the gaps that needed to be filled. After the light of understanding had dawned on our protagonist, he was unable to stand motionless, not any longer. Therefore, at the age of 49, Mr. Misra launched the company "earKART" by taking a leap of faith.
earKART was born out of the aspiration and underlying hope of creating a "forever brand," one that would reimagine what it means to serve clients who have hearing disabilities by tapping into the potential of the internet. This goal was the impetus behind the company's founding. There was a lot of noise in this business, and earKART is working to quiet it down by providing hearing aids that are inexpensive, easily accessible, and friendly to use. These hearing aids are the best of their kind. Mr. Misra was perplexed by the fact that in a nation with an estimated population of up to 8 Crores, only 7 Lacs people actually purchase hearing aids, which results in an adoption rate of only about 0.5 Percent. There are many different explanations for this: To begin, there are just about 4500 audiologists that are actively practising in India, and the most of them are concentrated in the metro areas and Tier 1 cities. As a direct consequence of this, a sizeable proportion of the population that resides outside of the nation's major cities lacks access to professional medical treatment. Second, hearing aids of a reasonable grade, equipped with Bluetooth connectivity and capabilities that allow them to be recharged, can cost upwards of 40,000 rupees each. Additionally, the majority of people require two hearing aids, one for each ear. This is not something that the average individual can accomplish. Last but not least, there is still a significant amount of shame associated with wearing hearing aids; as a result, many people, including those who are financially able to purchase aids, choose not to do so out of embarrassment. Recent research in the field of medicine has shown that untreated hearing loss not only results in social isolation and a loss of productivity, but it may also be connected to an increased risk of depression, dementia, accidents, and other health problems. EarKart has developed a one-stop digital solution for all hearing health issues in order to achieve their goal of increasing the adoption rate of hearing aids by at least 1% over the next three years. In order to achieve this goal, they are providing a common service platform to their customers and clinics. earKART is the bridge that ties all synergies together, from dealers/clinics and customers across India (and soon, around the world) on a one platform in order to generate the tremendous growth story that this market deserves. – ACCESIBILE In a world in which our clients and investors are spread over the entire planet, we are able to grab their attention and immediately establish an emotional investment in our company by demonstrating compassion and providing excellent service. Since the company's founding, earKART has served as the primary channel for the distribution of top hearing aid brands, including those that are both affordable and of the highest possible luxury level. After only one year of operation, it has reached a valuation of one hundred crore and has successfully increased its revenue by a factor of two. Then, one pleasant day when Mr. Misra was enjoying a cup of chai in the morning, he had this foreboding thought, or "Eureka" moment, as he likes to call it. The question "Why not produce our own products?" upholds the sanctity of the "Make in India" project, which was begun by the Prime Minister of India, and storms with the speed of light towards the accomplishment of the aforementioned three A's. A machine for every person in India who has a tale to tell and one to hear, told through a gadget that was manufactured in India and which, one day, will be worn by patients all over the world. – AFFORDABLE
earKART came to the conclusion that in order to provide patients with an even higher level of convenience, it was imperative that the process of buying and using a hearing aid be made as pleasant as possible for the patient as a whole. As a result, earKART came up with the brilliant idea of giving patients with one-of-a-kind benefits such as the provision of a dehumidifier, batteries, hearing aid insurance, and buy-back choices. We don't just offer products or services here at earKART; rather, we believe in the concept of selling an experience. This has only been made possible by the more than 1200 clinics that are currently enrolled with us.
To put this into perspective, earKART has a future that will never stop and is only going to keep growing. Within the next few months, people will become familiar with technology that has never been seen before and that can be accessed by anyone who possesses a smartphone by simply tapping their finger on the screen. And all that we are able to say is... KEEP AN EYE ON IT
What's Your Reaction?