A young doctor from Tamil Nadu earns his fourth consecutive National Award.
The 97th National Annual Conference of the Indian Medical Association was held in Allahabad, Uttar Pradesh, from December 26 to 28, 2022. Dr. Venkatesh Karthikeyan from Salem, Tamil Nadu, was awarded the IMA National Award for "Best Young Doctor" during this conference for his excellent service to the medical community.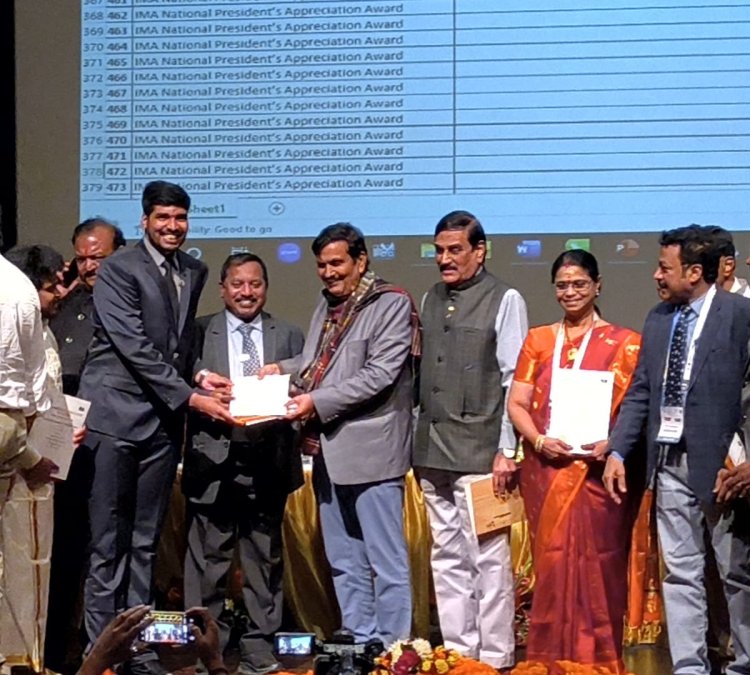 A graduate of the MBBS programme at Velammal Medical College in Madurai, Dr. Venkatesh Karthikeyan is currently practising medicine. At the moment, he is attending AIIMS Patna to study for his MD in Community and Family Medicine. He has served the Indian Medical Association in a number of positions, one of which was as the State President for the Medical Students' Network. At the present time, he is serving as the State General Secretary of the IMA Junior Doctors' Network. He is internationally acknowledged for his academic and scientific efforts towards the promotion of brotherhood and health consciousness among the general people. His work has been cited in several publications.
In the past, he has been honoured with the IMA MSN National Chairman Appreciation Award, the IMA National Award for Best Medical Resident (for the year 2021), and the IMA National Award for Best Medical Student (for the year 2020). (2019). This year, the IMA National Award for Best Young Doctor will be presented in Uttar Pradesh during the time and place of the NATCON. Dr. Shahjanand Prasad, IMA National President, presented the award in the presence of Dr.Ravi Wankhedkar, Treasurer of the World Medical Association; Dr.J.A.Jayalal, General Secretary of the Commonwealth Medical Association, London; Dr. Ashokan, IMA National President-Elect (2024); Dr. Jayesh Lele, IMA General Secretary; Dr. Sharad Aggarwal, National President-Elect (2023); Dr. C.N. Raj
Dr. K.M. Abul Hasan, IMA Tamilnadu State President-Elect; Dr. Senthamil Pari, IMA Tamilnadu State President; Dr. R. Palaniswamy, IMA Tamilnadu State Immediate Past President; Dr. NRTR Thiagarajan, IMA Tamilnadu State General Secretary; Dr. Alagavenkatesh, IMA Tamilnadu State Treasurer; Dr. Saralabai, IMA President
What's Your Reaction?