A Compendium of Valuable Insights to Radically Heal Yourself on All Levels.
The 'Kintsugi Mothers' is the nonfiction debut of an accomplished holistic health practitioner. Dr. Haseena Chokkiyil has compiled an anthology bursting with hope and optimism by narrating amazing stories from her case files about single moms who surmounted apparently insurmountable obstacles.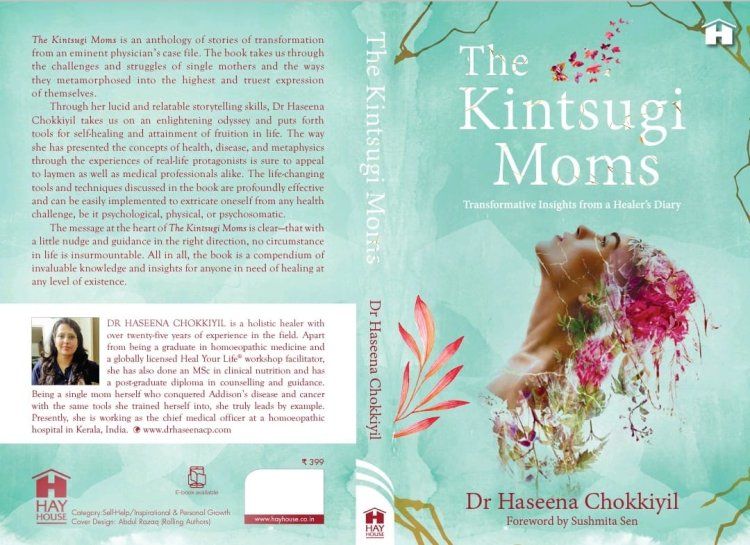 The book is properly separated into two sections so that it may be referred to more easily. In the first section, the author takes us through the emotional, mental, physical, sexual, and spiritual challenges her clients had to face and the ways in which they emerged radically healed, more resilient and beautiful than they were before, by adapting the holistic healing tools advocated by her. Her writing style is clear and relatable, and the reader will find it easy to follow along.
In the second half of the book, all of the strategies that were discussed in the first part are broken down into more detail and are then summarised.
The techniques for transforming one's life, which are both remarkably straightforward and highly efficient, are so deftly put together through the experiences of real-life protagonists, providing readers with information that is extremely helpful regarding the concepts of health, disease, and metaphysics.
They are simple to apply, and anybody, not only women raising children by themselves, may use them to free themselves from any health difficulty, whether it be psychological, physical, or psychosomatic.
Dr. Haseena is a true leader by example. She overcame Addison's illness and an early stage of cancer using the same treatment modalities, and she is a single mother herself.
Throughout her fight against Addison's disease, she found a lot of motivation from Ms. Sushmita Sen, and it's possible that the coincidence of their respective healing paths is what motivated the amazing former Miss Universe and pride of India to endorse the book.
When taken as a whole, the Kintsugi Moms provide a treasury of information and insights that are of immeasurable value to everyone who is looking for healing on whatever level of life. It is very evident that the central theme of the book is that there is no predicament in life that cannot be overcome with some prodding and instruction in the appropriate path.
With Regards to the Author: Over the three decades that Dr. Haseena Chokkiyil has spent practising medicine, she has been an essential part of the process of bringing genuine and profound healing to an uncountable number of hurting people. She also holds a master's degree in clinical nutrition and a post-graduate diploma in counselling and guiding, in addition to her degree in homoeopathic medicine from an accredited university. In addition to that, she is a worldwide licenced Heal your life® workshop facilitator via Heart-Inspired Presentations LLC, which is located in the state of California. "The Kintsugi Mothers" is the realisation of a long-held desire of hers to educate people all over the world about the various possibilities offered by alternative healing modalities. This was accomplished without contesting or denying the principles underlying contemporary medical practise. In point of fact, she holds the belief that each type of medical practise possesses its own unique set of actions, and as a result, the treatment of diseases should ideally involve taking an integrated approach while keeping the welfare of the patient in mind at all times. At the moment, she holds the position of Chief Medical Officer at a homoeopathic hospital in Kerala, which is located in southern India.
After only two months since its first release, the book has already been reprinted due to the overwhelming positive response it has gotten (Published by Hay House India and distributed by Penguin Random House).
The JK daily and Times of India have both included it on their list of finalists for the prize for the best debut women novelist (non-fiction). In addition to this, it has received a nomination in the same category from FICCI, and Ukiyoto publishers have deemed the author to be the finest woman author of the year. Appropriately named after Kintsugi, the exquisite Japanese art of repairing broken crockery with gold and lacquer in its cracks, thus making it more resilient and beautiful than it was before, the author deserves praise for creating a concise but comprehensive manual of healing broken minds and bodies.
What's Your Reaction?