Top 5 Motivational Speakers of India
The last couple of years have seen the rise of several powerful motivational speakers all over the country. They are the ones who have really upped the game and have impacted lakhs of people not just from India, but also from across the globe. Here is the list of the Top 5 motivational speakers in India-
1. Sandeep Maheshwari
Sandeep Maheshwari is one of the most popular motivational speakers and YouTubers in India. He tried his hands in a lot of ventures, from a multi-level marketing firm, to starting his own company to help people in the modelling industry. His desire to help and transform the lives of models led him to launch ImageBazaar, India's largest image collection, which has been instrumental in shaping the careers of many models in the country. His experiences helped him become a youth icon for many youngsters and entrepreneurs in India. He is on a mission to make people believe in themselves and make their lives easy.
He has achieved a lot of milestones in his journey, such as being awarded as 'Creative Entrepreneur of the Year 2013' by Entrepreneur Summit, and also the 'Pioneer of the Year Award' by ET Now. He also runs a very successful YouTube channel which has 18.4 million subscribers, through which he shares his experiences and life lessons.
2. Dr. Vivek Bindra
Dr. Vivek Bindra, the Founder and CEO of Bada Business, is an internationally acclaimed motivational speaker and business coach. He is known for creating compelling and inspiring content on 'leadership development', which is very popular with entrepreneurs all over the world. With more than 14 million subscribers on YouTube, he has carved his niche in the world of entrepreneurship and is impacting millions of people every single day.
He has many prestigious awards and achievements to his credit, including 'The Game Changer of the Year 2019' by Economic Times, 'Best Motivational Speaker 2019' by the International Glory Awards and has also been crowned as Think Tank of Corporate Asia by World Leadership Federation.
He has also been awarded by the Guinness World Records, London, 5 consecutive times, and Bada Business is the only Asian company to have achieved this feat during the lockdown.
3. Bhupenddra Singh Raathore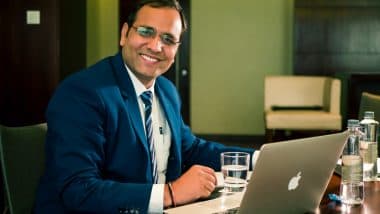 Bhupenddra Singh Raathore, popularly known as BSR, is India's no.1 motivational speaker of 2020 (as named by CEO India Magazine), a business coach and a best-selling author. He is the founder of #ThinkRichIndia Movement under which he is helping people to grow in all aspects of their lives.
He has been a Business Consultant for more than 1,200 companies and addressed more than 15,00,000+ people in 2,000+ talks and 1000+ webinars throughout the world. Bhupendra was awarded 'Asia's Greatest Leader' in 2017 at a forum in Singapore and was named 'Business Mentor of the Year 2018' by Entrepreneur Magazine.
He is the first Indian motivational speaker to be invited as a keynote speaker at the United Nations.
He has interviewed many Bollywood celebrities and renowned CEOs of companies. Some of the esteemed guests who have appeared on his show are Anand Kumar (Founder of Super 30), Kiku Sharda (Bollywood Comedian), Dia Mirza (Bollywood Actress), Brijesh Shandilya (Bollywood Singer) and CEOs Like Sanjiv Bajaj (Founder of Bajaj Capital), Kalpana Saroj (Padmashree and The CEO of Kamini Tubes).
His #ThinkRich Show is India's only show that brings viewers their daily dose of motivation and high power every week. He is changing lakhs of lives using his The Magic of Thinking Rich Workshop, a workshop on success psychology and law of attraction, which helps people program their minds for ultimate success, and thus, bring about massive changes in their lives. This workshop has benefited people of all age groups, and they have experienced positive results.
His main aim of doing all of this is his drive and desire to help the world, because he believes that "If you support the world selflessly, the whole Universe will support you endlessly."
4. Dr. Ujwal Patni
Dr. Ujwal Patni is an international trainer, celebrity author, business coach and motivational speaker. He is the author of 7 books, which have sold more than 1 million copies worldwide and have been published in 14 languages. His signature programs are called Excellence Gurukul and VIP on Success Habits. He is the only motivational speaker from India to lead 3 Guinness World Records. He has been featured on multiple TV channels, newspapers and magazines in India and abroad.
He has also been listed on 'Top 10 Indian Thinkers' and is also the recipient of 15 prestigious awards including Pandit Sundarlal Sharma Rajya Alankaran by Government, Top 10 Indian Thinkers 2014, Best Corporate Trainer of India, and Kamal Patra award.
5. Himeesh Madaan
One of the well-known names in the training industry is Himeesh Madaan, who is a performance coach and a motivational speaker. He is known for instilling dynamism and zeal in his audience. He possesses a very unique and entertaining style, through which he has captivated more than 100 million people worldwide. He has also worked in various verticals such as Business Development and quality, as well as Training. He has authored a book called 'Be Awesome, Live Awesome'.
His areas of specialization include Team Building, Leadership Skills, Behavioural Skills, Employability Skills and Communication skills. He is also very popular on YouTube, where he has a follower base of 5 million subscribers. His clients include renowned companies like PayTM, Hero Motors, SBI, BIMTECH and many others. He is also Six Sigma Certified, PCMMI Certified, IATA/UFTAA Qualified, Alumni of AAFT Film School, and a member of NHRD. Along with being a famous speaker, he is also an author and poet.
These well known speakers are creating a really powerful transformation in society, and are constantly striving to help and motivate people. Do check out their profiles in order to get your daily dose of inspiration!
What's Your Reaction?